____________________________
ReissCorp Foundation for Interdisciplinary Collaboration
An Alliance of Excellence in Partnership
Date: 15th of January 2014
RE: The Foundation Mission Statement


Dear Sir/Madam:

We are pleased to be submitting an updated copy of the Mission Statement for ReissCorp Foundation, attached herewith. In doing so, we seek to expand our consulting activities, and the process of raising grant monies for research while maintaining open and active lines of communication. Missions are never set in stone. Like people, science and society they must adapt with momentum.
ReissCorp remains grateful to The Centre for Entrepreneurial Leaning at the University of Cambridge, UK. Their expertise and financial support made the development of The ReissCorp Foundation for Interdisciplinary Collaboration possible. The Cambridge community was instrumental in providing the initial seed money that advanced us through the planning stages. Once the business plan was refined, they put ReissCorp in touch with a diverse network of experts and investors interested in interdisciplinary advances. Without their help these efforts may not have been realized.

Bridging the gap between disciplines can be analogous to the divide that separates people and nations. In this age of specialization our society risks fragmentation. Specialists in a particular field tend to buy the same journals, attend the same conferences and discuss the same issues with each other. Cross-fertilization with people in different departments can be lacking. The problems we face today call for multidimensional solutions that grow out of interdisciplinary collaboration. Flexibility in view, at the micro and macro level, is required. The advantages of diverse learning organizations, interdisciplinary professoriate and student body partnerships, and multicultural community exchange, albeit local or international, can only be achieved through active deliberation and communication of ideas with people of different vantage points. We seek diversity in perspective, at home and globally, because it develops humanity. It is through the process of coming to understand and fully apprehend the similarities and differences that we have with one another, which lays the foundation for well functioning relationships, whether interpersonal, interdepartmental or international.

It is the interdisciplinary perspective that we hope to advance through our activities at the ReissCorp Foundation and we thank you for your continued support.

Sincerely,
Prof. Christopher J. Reiss, BA, MA, PhD, MBA, LLM, EdD; DLitt Candidate
Prof. Catherine M. Connolly, RN, BA, MA, MS, PsyD; DBA Candidate
Enclosures: 1 (Mission Statement).
__________________________
ReissCorp Foundation for Interdisciplinary Collaboration
An Alliance of Excellence in Partnership
The Mission of ReissCorp Foundation for Interdisciplinary Collaboration is to promote cross-disciplinary partnerships in health, education, business, law & policy development.

The core Values that inform our work are …
· An understanding that the future of the globe and of its communities are closely intertwined.
· A sincere respect for the role of each discipline in informing and guiding cultural research and teaching.
· A commitment to the creation of knowledge and its dissemination across academic disciplines and diverse communities of the world.
· A belief that the issues facing academic disciplines and diverse global communities are complex, and often require collaboration across both academic and non-academic settings.

The Vision of The ReissCorp Foundation is to…
· Facilitate equal partnerships across disciplines, in which all work together to set research and instructional agendas and to generate new knowledge to solve problems.
· Foster scholarship to address cross-disciplinary needs and issues and connect the learned & the learner to the world outside of academia.
· Broker relationships and resources needed to achieve practical solutions and change.
· Provide an easy point of access to people and resources, both within academia and in the broader global community.

The Foundation's Objectives are to …
· Serve as a both facilitator and catalyst for interdisciplinary collaborative research and instructional activities.
· Facilitate cross-disciplinary access and the exchange of ideas by collecting, organizing and disseminating information about the Foundation's resources and collaborations.
· Inform Foundation partners of points of engagement within the diverse communities, both academic and non-academic, privileged and underserved.
· Develop effective media to communicate opportunities for cooperation, engage new partners, and foster commitment to scholarship that is informed by, and informs, the needs across academic disciplines and diverse global communities.
· Develop a series of collaborative workgroups that foster exchange, network-building, and project-related partnerships.
· Create a climate of trust and cooperation supportive of pragmatic partnership, so that over the next five years, Foundation-sponsored workgroups can tackle increasingly larger issues and deepen their impact across academia and the diverse communities of the world.
· Enhance the role of The Foundation as an international model for effective partnerships.


___________________________________________________________________
HISTORY:
The Foundation for Interdisciplinary Collaboration is a spin-off from ReissCorp, which adjusts to demands of each individual project through strategic alliances. The range includes individual consultation with Drs. Reiss & Connolly and/or their team with dozens of alliances across a list of affiliates. Drs. Reiss & Connolly have extensive specialized expertise, in addition to general training across numerous interdisciplinary fields. They are uniquely qualified to manage projects of all types. Often, ReissCorp assumes the role as principal company of record on projects, but just as many jobs originate through affiliates.

UNIVERSITY OF CAMBRIDGE, UK
NOTE: The Foundation for Interdisciplinary Collaboration was developed by Dr. C. J. Reiss at the University of Cambridge Judge Business School Centre for Entrepreneurial Learning, initially funded by a grant to offset programme expenses and then supported by the broader Cambridge community network of scientists, business experts and venture capitalists.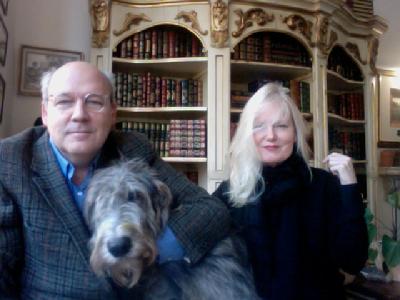 Chris, Catherine and Tess
______________________________________________
SYRACUSE UNIVERSITY
Prof. CATHERINE CONNOLLY, RN, BA, MA, MS, PSYD; DBA Candidate
Faculty Biography:
Professor Catherine M. Connolly is on the Faculty of Syracuse University, and is an Adjunct Professor of Psychology and Business Management teaching graduate and undergraduate students from the University of Maryland University College-Europe & Asia campuses. While working with graduate students in the psychology program, she specialized in teaching research methods, clinical assessment, psychometrics, individual & group psychotherapy, crisis intervention, and ethics. Her expertise in business management includes: organizational theory, mixed methods research, management science, leadership, organizational behavior and social psychology. Prof. Connolly also taught as an Assistant Professor of Psychology at Columbia University and supervised graduate students in their clinical practicum at the Columbia Counseling Center. Prior to that, she taught and supervised doctoral candidates in clinical psychology at the Florida Institute of Technology Health Clinic. Clearly she loves the work; feedback has always been extremely positive.
Prof. Connolly is also the Senior Supervising Psychologist and Director of Program Development & Research at the Children's Home of Jefferson County NY. Her research interests are diverse. Most recently she has been developing a phone app for research purposes that can track the prevalence and outcomes of workplace incivility, develop normative data across industry sectors, and explore related variables that impact businesses. As such, there are high expectations of numerous forthcoming publications.
Prof. Connolly has extensive experience including two master degrees in psychology and she is completing her dissertation for a second doctoral degree. She was awarded her R.N. at City University of New York, her B.A. Magna Cum Laude at CUNY-Hunter College, and her M.A. in Social and Organizational Psychology at Columbia University Teachers College.
Prof. Connolly was also awarded her second masters degree, M.S., and her first doctoral degree, Psy.D. in Clinical Psychology, from the Florida Institute of Technology. She anticipates defending another dissertation this next academic year for a second doctorate, D.B.A. in Business Administration, from the University of Manchester in the United Kingdom (i.e., consistently rated # 1 as the World's Best doctoral program in business by Financial Times since 2009).
Prof. Connolly has enjoyed working as a clinician on Wall Street, at various hospitals and for the US Department of Defense. Her Doctoral Internship in Clinical Psychology included specialization in Rehabilitation & Behavioral Medicine. She is also certified in EMDR. As a training supervisor at the Woodhull Medical Center in Brooklyn, Prof. Connolly supervised doctoral students in their internship program and was Director of the Medication Adherence Program. Dr. Connolly also has extensive experience in the fields of addiction and substance abuse treatment. She was affiliated with The Northern California Institute for Research & Education investigating PTSD in police officers at the NYPD. At Wall Street Counseling Center, she provided individual and couples therapy in addition to executive coaching.
Prof. Connolly worked at New York University Department of Environmental Medicine as a Clinical Psychologist and co-investigator in HIV research. She also published work as part of a team at Memorial Sloan Kettering Department of Epidemiology. Prof. Connolly excels on both academic and medical teams, teaching, supervising and implementing policies for deliver of services. She maintains excellent working relationships with all the other professionals on the teams.
Prior to entering the field of psychology she studied art at the Art Student's League, the National Academy of Art, the Salmagundi Club Center for American Art, and Parsons New School for Design in New York & Paris. She has also exhibited her art in private and public venues, in addition to juried competitions. Earlier in life she lived and studied culinary arts in Paris at the Cordon Bleu. Currently, she enjoys playing violin and the fiddle.
Prof. Connolly has a unique skill set with training in art, music and business, in addition to psychology, all of which serve her well teaching, providing clinical and consulting services, and conducting research.
Faculty Contact: Catherine.Connolly@Faculty.UMUC.edu
_____________________________
UNIVERSITY of MARYLAND UNIVERSITY COLLEGE
Prof. CHRISTOPHER REISS, BA, MA, PHD, MBA, LLM, EdD; DLitt Candidate
Faculty Biography:
Prof. Christopher Jacob Reiss has over three decades of experience leading organizations, teaching, consulting, fund raising and conducting research. He is a highly trained, seasoned professional with a diverse interdisciplinary perspective that he utilizes in an extremely effective manner.
Prof. Reiss is currently an Adjunct Professor of Psychology & Business Management for the University of Maryland University College (UMUC), and the Chief of Psychology, Forensics & Neuropsychology at the Children's Home of Jefferson County NY, implementing research protocols for new programs. At his core, Prof. Reiss is a psychologist and educator with a pragmatic philosophy. As his perspective continued to develop, he became truly interdisciplinary. Much of the credit goes to his mentors at the University of Virginia with "University Professorships" rather than departmental appointments. They were regularly encouraged to change departments in pursuit of lifelong learning, preferably to a department in which they had relatively less experience so the exchange of ideas would be on a more equal footing with students and other departmental faculty. Prof. Reiss' Doctor of Education in the theories, policies, and practices of running university departments and professional schools required at least two additional specializations outside the school of education. He chose business, law, and medicine as his focus, excelling in each, including many cross-referenced courses at the nexus of the three fields. As such, Prof. Reiss has expertise in: 1) The Integrated Curriculum Model [ICM] for designing differentiated course syllabi, mapping curricula, and developing instruction procedures; 2) Researching the most up-to-date content requirements within disciplines; 3) Constructing and validating test procedures for assessment units of study; 4) Stimulating high-level thinking processes and advanced concept formation; 5) Utilizing relevant research concerning other extant curriculum models; and 6) Implementing academic policies for the innovative advancement of educational quality and integrity. This was not wholly new to Prof. Reiss given his past experiences developing curricula at St. Vincent's Hospital, New York Medical College, Pace University, and the New York Court System Forensic Training Fellowship Programs that were in collaboration with Columbia, Cornell, NYU, Einstein, NY Medical College, Mount Sinai, St. Luke's Roosevelt, Montefiore, SUNY Downstate, and Beth Israel. Additionally, Prof. Reiss has extensive experience collaborating with textbook publishers determining appropriate content and faculty resources for courses across various fields.
At St. Vincent's Hospital & Medical Center of Manhattan—Reiss Pavilion, teaching was often done in seminar formats during morning rounds, case conferences, Grand Rounds and at other times. Prof. Reiss ran Behavioral Health and taught psychiatry & psychology interns and fellows, in addition to psychiatry residents, and medical students. He was the liaison consultant to all other departments, where he fostered a deeper understanding of each patient that was grounded in both basic and clinical sciences. As a senior forensic expert (e.g., at NYPD, the NY Courts, and Military JAG) Prof. Reiss would regularly brief lawyers on the nuances of various cases, prep them for Court, and also give expert testimony to Judges and Juries, while translating complex ideas into engaging and easily understandable facts. As a business consultant (e.g., as Co-Director of Affiliated Physicians at the World Trade Center, President of ReissCorp, and Chairperson of ReissCorp Foundation for Interdisciplinary Collaboration), he regularly gave luncheon lectures, seminars, and boardroom presentations to business executives, at both large and small gatherings. He developed employee assistance programs for large-scale corporations, targeting all types of medical and public health issues. With the help of the late Dr. Peter Rizzo (former NYPD & FDNY Surgeon, and Chief of Orthopedic Surgery at St. Vincent's Hospital), Prof. Reiss developed the curriculum for a Back School to be franchised across the country to help employees manage chronic back pain, a major reason employees call in sick to work.
Prof. Reiss has consulted in the areas of oil & gas, finance, law, education, health, data processing, telecommunications, construction, government, agriculture, real estate, transportation, art, music, entertainment, and the manufacture of such diverse things as pharmaceuticals, clothing, electronics, plastics and silicone parts. He has been a stakeholder in Reiss Corporation Manufacturing since 1986.
It has been said that Prof. Reiss is a pleasure to work with. He has a great working knowledge of finance but an even better understanding of budgets, and a keen sense of how to operate successfully in a highly professional and personable manner with good common sense.
He was awarded his B.A. at The George Washington University, his M.A. at New School for Social Research, and his Ph.D. in Clinical Psychology from Florida Institute of Technology in 1982 with a minor in International Studies from their Lugano, Switzerland campus. Prior to graduation, he completed his training analysis and an APA approved internship dealing with adults & children, followed by fellowships in clinical psychology, neuropsychology and forensics.
Prof. Reiss was also awarded his M.B.A. in International Business at Long Island University campuses in NY, London, and Paris (i.e., C.W. Post College of Management-NY; European Business School-London; and Le Pôle Universitaire Léonard de Vinci, EMLV-Paris). Additionally, he was awarded his LL.M. in International Law and International Relations from the University of Kent Faculty of Law at Canterbury England, and the Brussels School of International Studies.
Prof. Reiss has recently been awarded his second doctorate, an Ed.D. in Policy Studies from the University of Virginia specializing in business, law, public health & the policies of running professional schools and university departments. He anticipates defending another dissertation this next academic year for a third Doctorate, the D.Litt., in Arts and Letters with specialization in philosophy, literature, and all forms of writing from Drew University. As you can see from his CV, Prof. Reiss has extensive post-graduate training, all of which involved class presentations and/or thesis and dissertation defenses. He has presented at various professional association meetings, and has worked as a peer reviewer for journals and annual conferences.
In addition to his academic position for UMUC, Prof. Reiss taught as a guest lecturer at Syracuse University. His ability to assess and meet the needs of students and faculty, bridge the gaps between disciplines, and work collaboratively, both within and across diverse cultures, is outstanding. Ratings have been consistently exceptional, e.g., "Informative, entertaining, and genuinely interested in his students, his colleagues, and his work". The most recent comment from one of his graduate students, a retired Marine, was as follows: "I really appreciated your style of instruction. This was one of my favorite classes, to date. Thank you for your contribution to my education".
Prof. Reiss has expertise in many fields and he spent much of the last half-decade living and working in Germany as a company contractor for the US Dept. of Defense. He was also hired by UMUC-Europe to teach psychology, international/multi-cultural studies, business management and ethics. His academic leadership experiences from clinical, forensic, and business settings should be weighted alongside his teaching experiences at Pace University, NY Medical College, NY Institute of Technology, UMUC, and Syracuse University. Prior to UMUC, he was an Adjunct Professor in Arts & Sciences at NY Institute of Technology, also in collaboration with the Nanjing University of Posts & Telecommunications, China teaching all aspects of business administration, journalism, writing, speech making, debate, international relations, negotiation & law. That said, his teaching experiences date back to 1983 when he was a Clinical Assistant Professor of Psychology, Psychiatry & Behavioral Sciences, NY Medical College, and an Adjunct Assistant Professor of Psychology, Pace University.
Prof. Reiss works both independently and as a team member. He assesses individual & organizational functions, achievements and deficiencies. Then he develops, implements, monitors and adjusts problem solving intervention plans. When applicable, each project is fully documented for case presentation. Whether for training, education, consulting or forensic purposes, case materials are packaged into multimedia presentations and written reports.
Prof. Reiss thoroughly enjoys working in a diverse multi-cultural environment. Currently, he lives with his fiancé, Catherine Connolly who is also a Professor of Psychology & Management at UMUC and on the faculty at Syracuse University. They enjoy exploring the world with their Irish Wolfhound named Tess.
Faculty Contact: Christopher.Reiss@Faculty.UMUC.edu
________________________________________________________________________________
ReissCorp Foundation for Interdisciplinary Collaboration
An Alliance of Excellence in Partnership
TO CONTACT US PLEASE FILL OUT THE FORM BELOW